Home | Applications | Daily Memo
Daily Memo
Simple & cute memo app! Create memos with sticky, tapes and marks!
There are three sheets per day to categorize your memos! Just drag and move to each sheet!
Make your own original and fun memos by using marks!
Fun and Pretty! Daily calendar and memo app!
Daily Memo How To Guide
Modifications
Menu Buttons
❶ "Mail": Send memos as an image by email.
❷ "Setting":Set basic functions of the app.
❸ "Undo":You can undo the last deletion.
❹ "Password": Set the password.
❺ "Backup":


Import SD card: Import data from SD card.


Export SD card: Export data to SD card.


Export Cloud:You can backup data to Gmail, Google Drive and Dropbox.*Please install either software from the market.
❻ "More"
---"Copy to SD card": Copy the data to internal and external SD card.
---"Recovery": Use this function when you want to retrieve the previous data. *Please note that the current data will be deleted when you use this function.
---"Help":Move to the description page of our web site.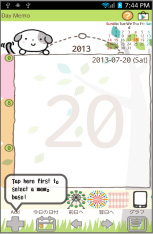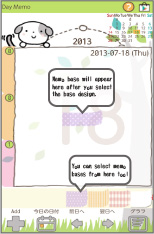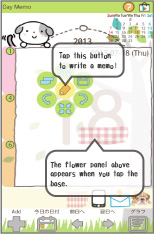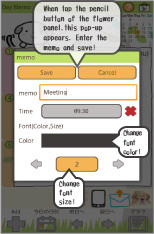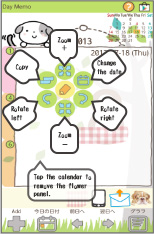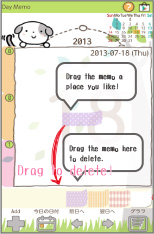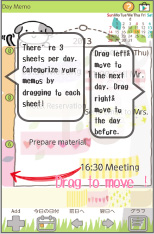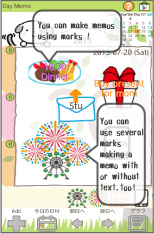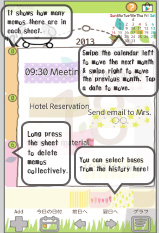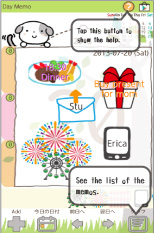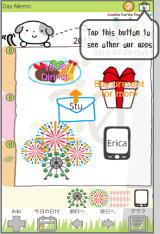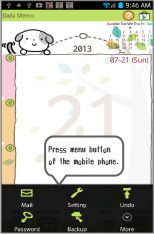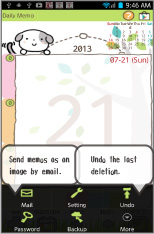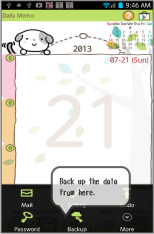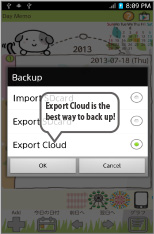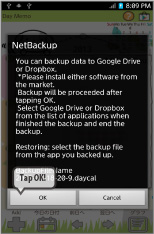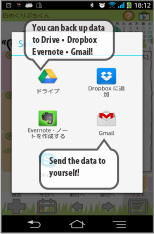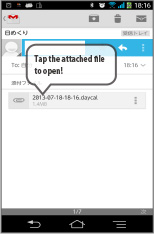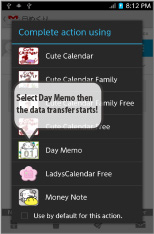 Click the link below to download Daily Memo from your mobile.(To download Daily Memo, open our website with your mobile and tap the right link.) Daily Memo Daily Memo Free

Click QR cord below. The link to the Android market will be sent your mobile.Tap the QR cord if you visit our website with your mobile.


Daily Memo

Daily Memo Free