Home | Applications | Mental Arithmetic Log
Mental Arithmetic Log
This is a mental arithmetic game to train for adult brain! This app keeps track of the speed of the mental arithmetic!
As a level rises, the game becomes more difficult! Try how fast you can do a mental arithmetic!
*Mental Arithmetic Log does not sync with Google Calendar.

Mental Arithmetic Log Howto Guide
Modifications
Menu Button
❶ Setting: Set the basic functions of the app.
❷ Password: Set the password.
❸ Backup: Save the data to SD card.
❹ Copy to SD card: Copy the data to internal and external SD card.
❺ Recovery: Use this function when you want to return to the previous data. *Please note that the current data will be deleted when you use this function.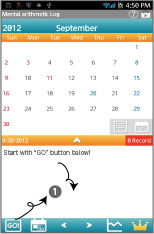 *Calendar*
Tap "Start with "GO" button below" or "GO" button to start the game!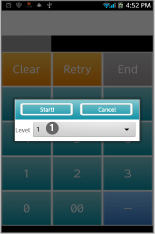 Select a level here and tap "Start!" button to start the game.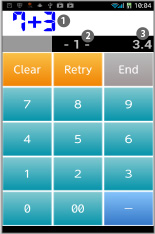 Formulas appear here and move from left to right. Enter the answer before it disappears.
The level which you are trying.
The number of seconds.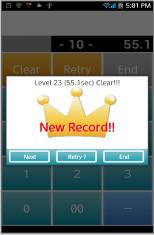 This is the pop-up when you have a new record!
Tap "Retry?" button when you want to try again.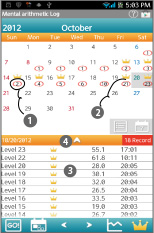 Red circle and the number shows the last level you tried that day.
A crown mark appear when you made a new record.
All the records you have made in a day appear in the list.
Tap this arrow to see the records in a full screen.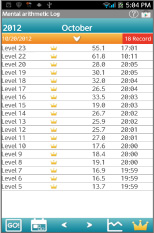 This is the full screen image. It is very convenient!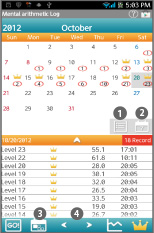 *Calendar*
「List」button:Switch the calendar to the list display.
「Weekly Display」button:Switch the calendar to the weekly display.
「Today」button:Go back to today's date.
「Left&Right」button:Move dates right to left.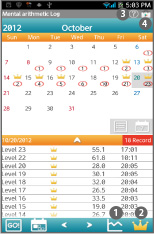 You can see your records as a graph.
Display the best scores.
「Help」:Move to this page.
「Market」:Recommendation of other GalleryApp's apps.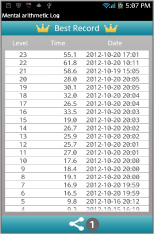 「Share」button. You can share this page with different ways.

Click the link below to download Mentarl Arithmetic Log from your mobile.(To download Mentarl Arithmetic Log, open our website with your mobile and tap the right link.) Mentarl Arithmetic Log Mentarl Arithmetic Log Free

Click QR cord below. The link to the Android market will be sent your mobile.Tap the QR cord if you visit our website with your mobile.


Mentarl Arithmetic Log

Mentarl Arithmetic Log Free