Home | Applications | Baby Calendar
Baby Calendar
Baby Calendar is the app you can keep records of your babys' growth.
Make babys' list and switch the calendar for each baby so you can keep each baby's daily records separately.
Save photos, daily events (Milk, diaper etc…) and daily and repeated plans for your baby! You can set the alarm for important events as well!

Added a new backup function Export Cloud! You can save, send and retrieve your data by using "Gmail" and "Google Drive". Please click Backup button above to check the description.

Baby Calendar Howto Guide
Modifications

Added a new backup function "Export Cloud"!


Added the weekly display.
Menu Buttons
❶ 「Search」:Serch the log by a keyword.
❷ 「Setting」:Set basic functions of the app.
❸ 「Mark」:Add marks on the calendar.
❹ 「Password」:Password setting.
❺ 「Twitter Setting」:Set Twitter login.
❻ 「More」:


「Backup」:
-----Import SD card: Import data from SD card.
-----Export SD card: Export data to SD card.
-----Export Cloud:You can backup data to Google Drive and Dropbox.*Please install either software from the market.


「Copy to SD card」:Copy the data to internal and external SD card.


「Recovery」:Use this function when you want to return to the previous data. *Please note that the current data will be deleted when you use this function.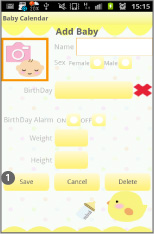 Initial Window is "Add Baby".
The second time and after you open Baby Calendar, The initial window is a calendar.
Let's start with making a list of your babys!
Enter the infomation you need and press "Save".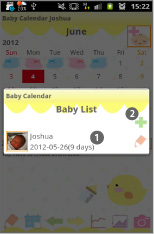 *How to add more babys*
When you saved the first baby, go back to the calendar. Tap a top right corner button of the calendar to move to "Baby List".
You can confirm the baby"s name and the photo here.
Tap this Plus button to save more baby.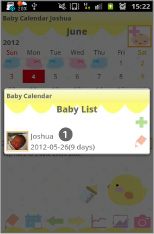 "Baby List"
When you finish saving babys, tap one of the baby's name that you want to display on the calendar.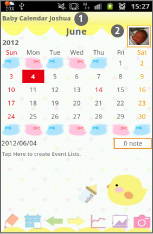 Selected baby's name appears here.
Selected baby's photo is here.
*How to switch the calendar to display other baby*Tap ② to move to"Baby List" then reselect the baby.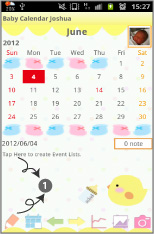 *How to create Daily To-Do*
Tap here.
Move to "Daily To-Do".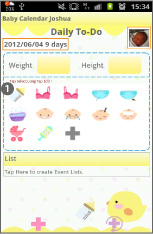 *How to save dailry to-do.*
Tap Baby bottle icon for example, to save a milk quantity.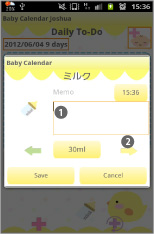 Move to this pop-up window.
You can save memo.
Select quantity by tapping right and left arrows. Go at fast speed by a long press.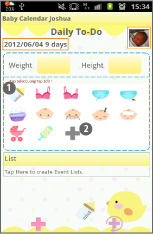 *How to edit each event*
Long press the Baby bottle icon.
Add new categories by pressing gray plus button.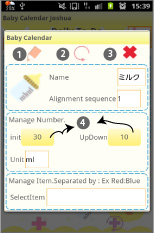 *Add categories pop-up window*
Save button: save a new category with this button.
Back button: go back to "Daily To-Do".
Delete button: delete a category.
Edit here default value and increase-decrease number.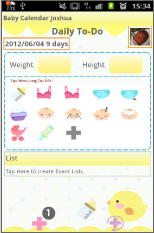 *How to create Daily Event*
Press "Plus" bottom left button of "Daily To-Do".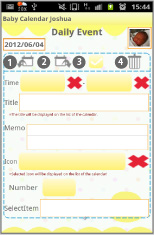 Move to "Daily Event".
Moveup button: Move up the event previouous day or before.
Putoff button: Move the event to the next day or after.
CheckMark: When you have done the event, press the mark. Check mark will be appeared on the calendar's list.
Delete button: Delete the event.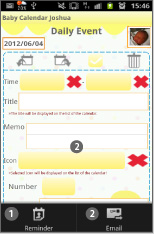 *Daily Event's Menu Button*
Press Menu button of your mobile when you have Daily Event on the screen.
You can set the alarm for the event with "Reminder" button.
You can send the event by email with "Email" button.
Press 「Back」button of your mobile to save automatically the information you have entered.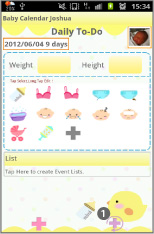 *How to create Repeated List*
Press bottom right button (Plus with arrow) of "Daily To-Do".
Move to "Repeated List" window and press "New".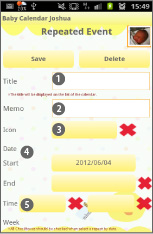 Move to "Repeated Event".
Enter event title.
Memo or note.
Select an icon (mark) to display on the date.
Start and finish date of the event.
Start and end time of the event.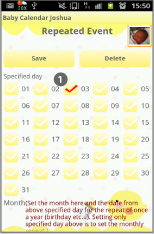 Select a date for an event once a month and Press "Save".
Please take a look more detailed guide for repeated events at our Cute Calendar user guide.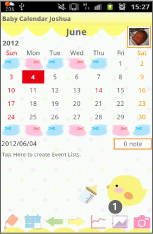 Press "Photo List" button of the calendar.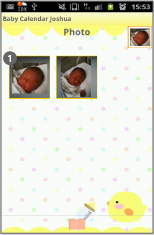 Move to "Photo".
Tap one of the photos then move to "Photo Edit".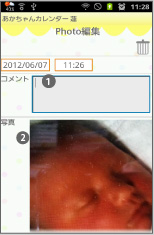 "Photo Edit".
You can save a comment for each photo.
Tap the photo. Move to "Photos".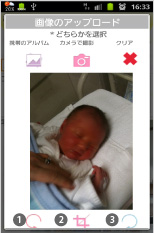 "Photos".
Edit the photo.
Rotate in a counterclockwise.
Clipping.
Rotate in a clockwise.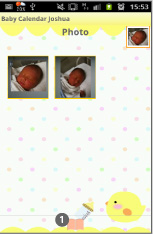 Press "Album" button of Photo window.
Move to "Album".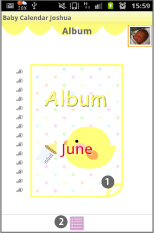 "Album"
Turn over the album cover to see the photos one by one!
Move to "Photo" window.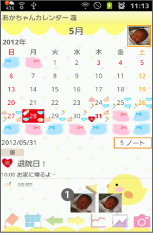 Tap one of the photos that are saved on the calendar.
r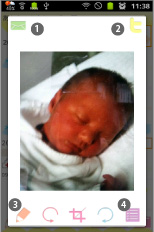 Email button→send the photo by email.
Twitter button→upload the photo to Twitter.
Move to Photo Edit window.
Move to Photo window.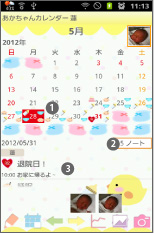 *Calendar's details*
Saved events' icons appear on the date.
Switch the note display.
Saved events are listed here.When you tick the checkmark on "Daily Event" window, a red checkmark appears here (not in this image). You can see the event is done at first sight!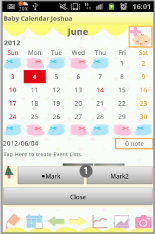 Press "Menu" → Select "Mark".
Add marks you want on the date.
*How to add*
Tap either Mark or Mark2, select a mark then tap the date.
*How to delete*
Select the same mark you want to delete and then tap the mark.

Click the link below to download Baby Calendar from your mobile.(To download Baby Calendar, open our website with your mobile and tap the right link.) Baby Calendar Baby Calendar Free

Click QR cord below. The link to the Android market will be sent your mobile.Tap the QR cord if you visit our website with your mobile.


Baby Calendar

Baby Calendar Free