Home | Applications | ColorCalendar
ColorCalendar
ColorCalendar is a very simple app that you can add 4 colors on a date and can manage your shifts!
Tap the screen under the selected date, then a keyboard will be displayed. You can save notes and memos to manage your plans of the day!
Just press Add button ( Plus Button ) and select a color and where you want to display it on a date. *☓ button is 「Close」button.

ColorCalendar Howto Guide
Modifications
Menu Button
❶ 「Mail」:Send the calendar as an image by email.
❷ 「Password」:Set a password.
❸ 「Setting」:Set start week and vibration etc...
❹ 「Backup」:
-----Import SD card: Import data from SD card.
-----Export SD card: Export data to SD card.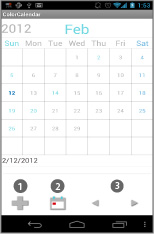 Initial Screen is a calendar.
「Color Add」button: Tap this button to add colors.
「Today」button: Go back to the today's date.
「Left」&「Right」button: Move the date right and left.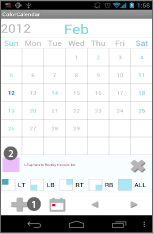 Tap Color Add button.
Tap here to make a new color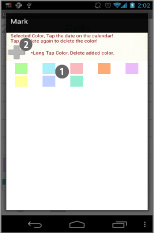 Color List Window.
These are default colors.
Press Add button to make a new color.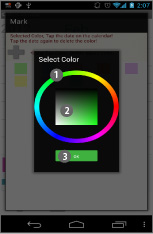 Select Color Window.
Select a color here.
Adjust the color here.
The color you have selected appears here. Press OK to save the color.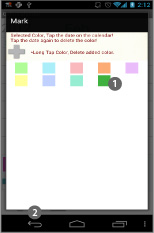 You can see the color you made is saved on the list.
Select a color and press Back button of the mobile.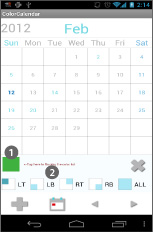 The selected color appears here.
Select a position of the color.LT: Left-TopLB: Left-ButtomRT: Right-TopRB: Right-ButtomALL: All corners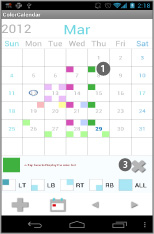 After selecting a position, tap a date.
You can add 4 colors each date.
Close button.
This is a very convenient app for people who work with shifts to manage shifts just adding colors on the calendar!

Click the link below to download ColorCalendar from your mobile.(To download ColorCalendar, open our website with your mobile and tap the right link.) ColorCalendar ColorCalendar Free

Click QR cord below. The link to the Android market will be sent your mobile.Tap the QR cord if you visit our website with your mobile.


ColorCalendar
ColorCalendar Free