Home | Applications | Album Calendar
Album Calendar
Album Calendar is an app that you can take photos everyday and save them on the calendar!
Keep your diet log, a journal of everyday of your precious moments and memories, you can use Album Calendar in a various ways!
Save comments and memos in each photo!
Post your photos on Twitter!
Easy-to-use interface!

Album Calendar Howto Guide
Modifications
Menu Button
❶ 「Searcg」:Search the log by a keyword.
❷ 「Password」:Set a password.
❸ 「Base Setting」:Select calendar's color.
❹ 「Twitter Setting」:Twitter log-in setting.
❺ 「Setting」:Set start week and vibration etc...
❻ 「More」:


「Backup」:
-----Import SD card: Import data from SD card.
-----Export SD card: Export data to SD card.


「Copy to SD card」:Copy the data to internal and external SD card.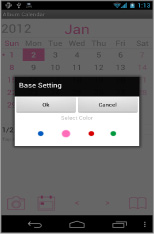 *Initial window*
Select the color of the calendar. There are 4 colors Pink, Navy, Red and Green.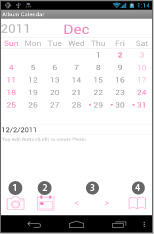 Camera button: Select a date→tap this button→start up the camera.
Today button: Go back to today's date.
Left & Right button: Move the date right and left.
Album button: See photos taken in the selected month.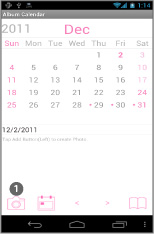 Lets's save photos!
Calendar→Camera button→Take photos.
After taking photos, press"Back"button of the mobile to go back to the calendar.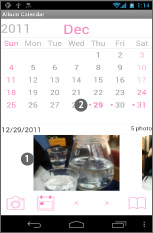 You can see saved photos below the calendar.
Pink dot appears on the date when there are photos.
 
Tap one of the photos→Enlarged pop-up appears.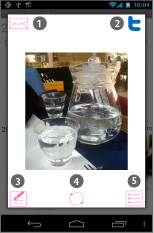 *Enlarged pop-up window*
Email button: Send photo by email.
Twitter button: Tap this button→Dialog box appears. Enter the Tweets→Tap Twitter button to post.
Edit button: Save memos for the photo. You can save the memo in the List Window too.
Rotate button:Rotate the photo.
List button: Save memos, send email and post on Twitter.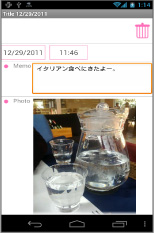 Enlarged pop-up window→Edit button→Edit Window.
Delete button: Delete the memo and photo.
Memo: Save memo for the photo→After entering comment, press "Back" button of the mobile to save the data.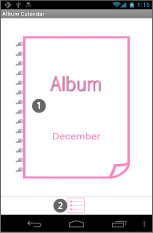 *Calendar→Album button→Album window*
See photos of the month.
Flip the photo to see the next picture.
List button: See all photos in the list.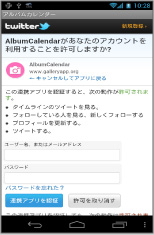 Menu button→Twitter Setting: Set the Twitter connection. *The image is in Japanesebut the actual setting will be in local language.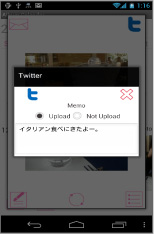 Connection is approved.
Tap one of the photos → Tap Twitter button.
This window will be appear, then enter the comment then tap Twitter button→Uploaded on Twitter successfully.

Click the link below to download Album Calendar from your mobile.(To download Album Calendar, open our website with your mobile and tap the right link.) Album Calendar Album Calendar Free

Click QR cord below. The link to the Android market will be sent your mobile.Tap the QR cord if you visit our website with your mobile.


Album Calendar

Album Calendar Free