Home | Applications | Icon Calendar
Icon Calendar
This is a very pretty calendar that you can add icons on a date and can manage your plans!
It is so cute and convenient! You can add 5 icons on a date and can save your plans of the day with a text, too!
It is very easy to use! Just press the Add button ( dog & plus button ) and select where you wantto display icons on a date. *× button is 「Close」button.
Tap the screen under the selected date, then a keyboard will be displayed. You can save the text messages to manage your plans of the day!

Added a new backup function Export Cloud! You can save, send and retrieve your data by using "Gmail" and "Google Drive". Please click Here to check the detailed description.

Icon Calendar Howto Guide
Modifications

Added a new backup function "Export Cloud"!


New marks are added on Oct. 30! The mark list is displayed by categories!


Two new colors for Icon Calendar is updated on Jan 2!

Menu Buttons
❶ 「Mail」:Send the calendar as an image by email.
❷ 「Setting」:Set basic functions of the app.
❸ 「Password」:Password setting.
❹ 「Backup」:


Import SD card: Import data from SD card.


Export SD card: Export data to SD card.


Export Cloud:You can backup data to Google Drive and Dropbox.*Please install either software from the market.
❺ 「Setting Icon」:Customize the mark list.
❻ 「Recovery」:Use this function when you want to return to the previous data. *Please note that the current data will be deleted when you use this function.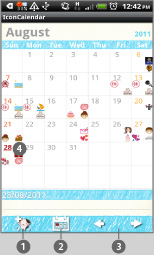 The initial window is the calendar.
「Icon Add」button: Tap this button to add icons.
「Today」button: Go back to the today's date.
「Left」& 「Right」button: Move the date right and left.
Today's date is displayed red & bold with underline.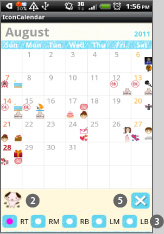 Let's add icons on the calendar!
Press 「Icon Add」button.
Tap this icon then the list will be displayed. Select an icon you like.
Select the place where you want to display.*RT: Right Top*RM: Right Middle*RB: Right Bottom*LM: Left Middle*LB: Left Bottom
Then tap the date to add the icon.
This is the 「Close」button.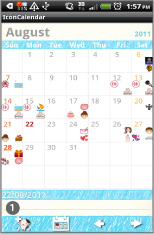 You can save text message here. Tap this place to add .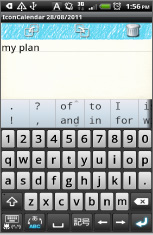 Text Entering Window.
After entering the text, press 「Back」button to go back to the calendar.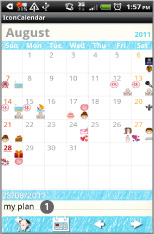 You can confirm here saved text messages.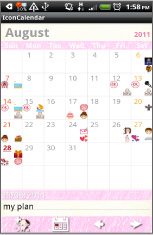 Click the link below to download Icon Calendar from yourmobile.(To download Icon Calendar, open our website with your mobile and tap the right link.) Icon Calendar Icon Calendar Free

Click QR cord below. The link to the Android market will be sent your mobile.Tap the QR cord if you visit our website with your mobile.


Icon Calendar

Icon Calendar Free