Home | Applications | Timetable Calendar
Timetable Calendar
You can manage your school timetable or your child's school timetable with this application. You can choose calendar design from 4 themes to customize your timetable.
You can change the calendar design anytime and your data will not be affected by doing it. There are 10 timetable patterns! Every pattern has its own calendar!

TimeTable Calendar Howto Guide
Modifications
Menu Buttons
❶ 「Mark」:Add marks on the calendar.
❷ 「Setting」:Set basic functions of the app.
❸ 「Password」:Password setting.
❹ 「Backup」:


Import SD card: Import data from SD card.


Export SD card: Export data to SD card.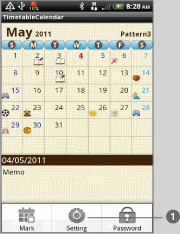 Default calendar is Theme1. Press "Menu" then select "Setting" to change theme.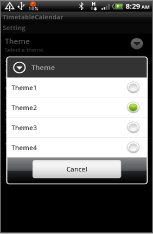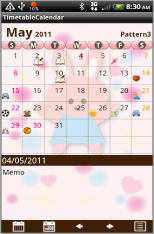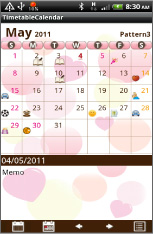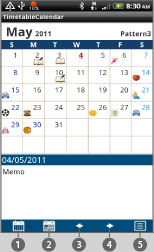 Here, you select a category to enter your daily data.
Timetable Button: Move to the timetable screen.
Today Button: Go back to today's date.
Left Button: Move date to the left.
Right Button: Move date to the right.
List Button: You can see your timetable in the list.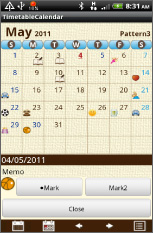 From "Menu", select "Mark".
Select one you like and tap the date you want to add.
Delete mark is tap twice the same mark on the date.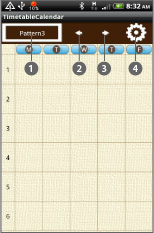 Tap "Timetable" button of the calendar to move this timetable screen.
It is displayed pattern's name.
& Move pattern.
Setting: Set your own patterns.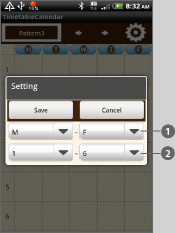 Set time table week day.
Select the period.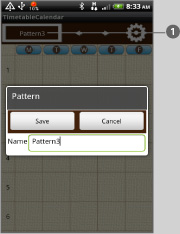 Tap here to change pattern name.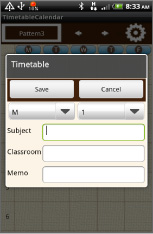 Tap timetable cell, then this popup window appears.
You can save subjects easily and quickly!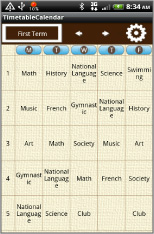 This is the example timetable of elementary school.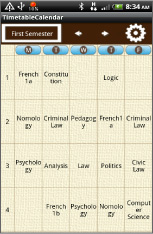 This is the example timetable of University.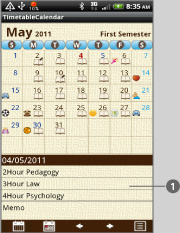 When you finish saving the timetable, go back to the calendar.
"Book" mark will appear, when only timetable saved on that date.
"Book & Pensil" mark will apper when timetable and memo are saved.
"Pensil" mark will appear, when only memo is saved.
Saved timetable is displayed in the list here.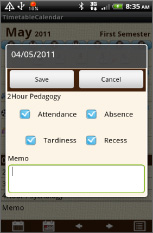 Tap each subject of the left screen ①, this popup window will appear.
You can check and save if you attend or absent your class here. You can also save memo (home works or submission of report etc...).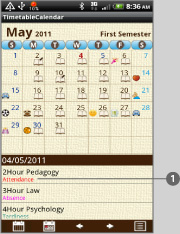 You can see saved information here.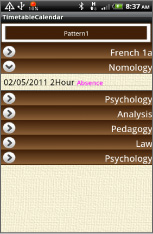 Tap "List" button of the calendar to see the saved timetable in the list.

Click the link below to download Timetable Calendar from yourmobile.(To download Timetable Calendar, open our website with your mobile and tap the right link.) Timetable Calendar Timetable Calendar Free

Click QR cord below. The link to the Android market will be sent your mobile.Tap the QR cord if you visit our website with your mobile.


Timetable Calendar

Timetable Calendar Free