Home | Applications | EverydayCheck
EverydayCheck
This application is for making a list of your daily routines and check it when it is done. You will never forget your daily events using our EverydayCheck!

EverydayCheck Howto Guide
Modifications
Menu Buttons
❶ 「Mark」:Add marks on the calendar.
❷ 「Setting」:Set basic functions of the app.
❸ 「Password」:Set the password.
❹ 「Backup」:

Import SD card: Import data from SD card.

Export SD card: Export data to SD card.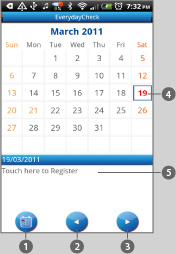 Initial Screen.
Today Button: Go back to todays date.
Left Button: Move date to the left.
Right Button: Move date to the right.
Red and bold date is selected one. Date with navy square is today's date.
Select a date that you want to start adding daily routine then tap this place. The pop-up will appear. See below.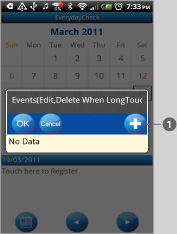 Tap "Add" then textbox will appear. See right.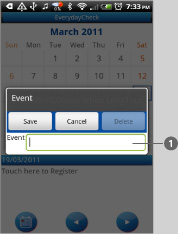 Enter daily routine (Event) and tap"Save".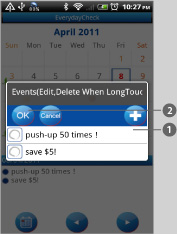 When you enter and save the daily routine, you come back to this screen.
Saved events will be displayed like this.
When you finish entering all events, tap"OK"to go back to the calendar.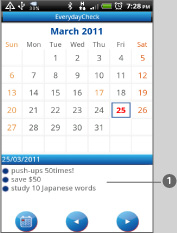 After tapping"OK", saved events will be displayed here.
You finished saving events now.
Next, let's check your daily routines everyday.
First, select the next date, then tap ①. The pop-up will appear. See right.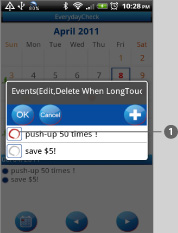 When the routine is done, tap the round circle. When you touch this button, the round circle turns red.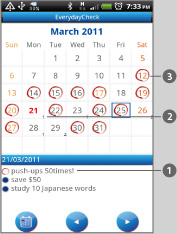 When you check done routine, the event here shows round red circle too.
When all events are not done, the round red circle will not appear on that date. The number of done event will appear at the right-bottom of the date.
The round red circle will be displayed on the date, when all events are done.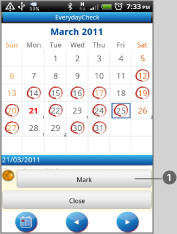 From "Menu", select "Mark"."Mark" button will appear on the screen.
Tap "Mark", then the list of icons will be displayed. Select one icon you like.
Then tap the date you want to add icon. The icon will be displayed at the left-bottom of the date.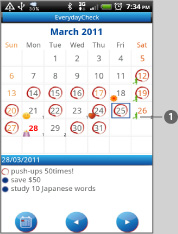 Icon will be displayed like this.

Click the link below to download LadysCalendar from yourmobile. (To download LadysCalendar, open our website with your mobile and tap the right link.) EverydayCheck EverydayCheck Free

Click QR cord below. The link to the Android market will be sent your mobile.Tap the QR cord if you visit our website with your mobile.


EverydayCheck

EverydayCheck Free