Home | Applications | WhatColor?
WhatColor?
Have you ever felt curious what color it is and wanted to know what color exactly is? GalleryApp WhatColor? tells you RGB code by taking a picture.
WhatColor? Howto Guide
Modifications to the new version

There is no modifications at this moment.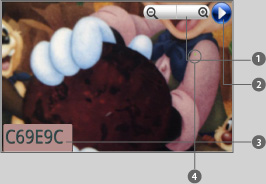 WhatColor?'s initial screen is the camera.
Zoom tool.
Go back to the camera.
RGB Color Code: The background color of the code is the color that the camera captured.
This tiny green dot is where the camera captures the color.

Visit our website with your mobile and tap the right link to download WhatColor?. WhatColor? WhatColor? Free

Visit our website and tap the QR cord or scan QR cord with your mobile.


WhatColor?

WhatColor? Free