Home | Applications | MemoryTimer
MemoryTimer
Have you ever thought how many days passed since your last memory or want to remember your sweet memories at all times?
GalleryApp MemoryTimer is the application for you! You can save your important memories, events or photos and give the title for your memory. MemoryTimer will also remind you how many days went by.

MemoryTimer Howto Guide
Modifications

No modifications.

Menu Buttons
❶ 「Repeat Notify」:Set an alarm to remind you the important day.
❷ 「Backup」*only free version:

Import SD card: Import data from SD card.


Export SD card: Export data to SD card.
❸ 「Copy to SD card」*only free version:Copy the data to internal and external SD card.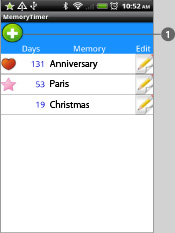 It is very user-friendly! This is Add Button.
Tap Add Button then you move to the registration screen.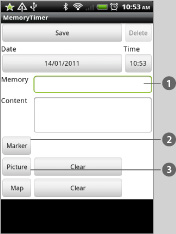 Enter your memory title here. Ex. Anniversary
You can choose an icon for your memory.
You can save a photo here.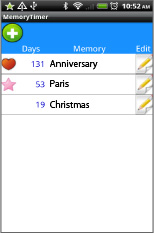 When you save your memory, the list of the memories appears on the initial screen.
Tap one memory from the list then the photo you saved pop ups.

Visit our website with your mobile and tap the right link to download MemoryTimer. MemoryTimer MemoryTimer free

Visit our website and tap the QR cord or scan QR cord with your mobile.


MemoryTimer

MemoryTimer free