Home | Applications | DietCalendar
DietCalendar
This is a simple and user-friendly diet app! You can at once understand your weight changes looking at the calendar! You can also save photos what you eat in a day. Set a goal weight and go on a healthy diet!

Added a new backup function Export Cloud! You can save, send and retrieve your data by using "Gmail" and "Google Drive". Please check the detailed description below.

DietCalendar Howto Guide
Modifications

2014.02.22:New design is updated!


2013.12.01:The amount of body fat weight is now automatically displayed! Added the chart for the amount of fat weight.


Description page was updated! Detailed info appear by tapping a point of bar graph!


Added a new backup function Export Cloud!


2012.02.12:Added a new option for the calendar! User guide is added at the bottom of the page.

Menu Buttons
❶ 「Base Setting」:Set your weight goal etc...
❷ 「Setting」:Set basic functions of the app.
❸ 「Password」:Set a password.
❹ 「Backup」:


Import SD card: Import data from SD card.

Export SD card: Export data to SD card.

Export Cloud:You can backup data to Google Drive and Dropbox.*Please install either software from the market.
❺ 「Copy to SD card」:Copy the data to internal and external SD card. ❻ 「More」:


「Recovery」:Use this function when you want to return to the previous data. *Please note that the current data will be deleted when you use this function.


「Message」: Show the update details.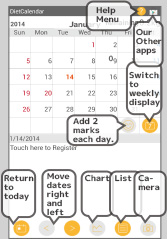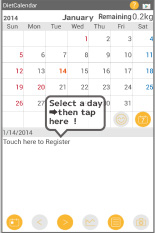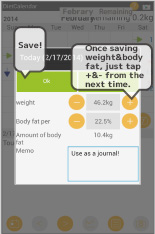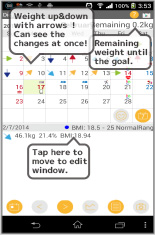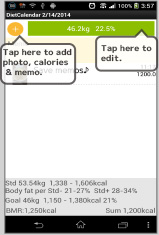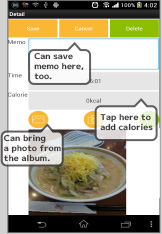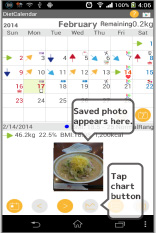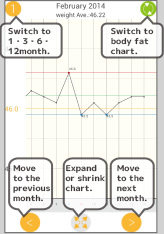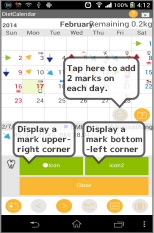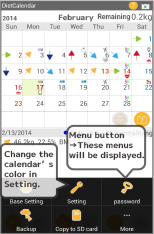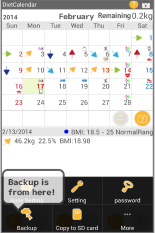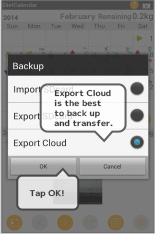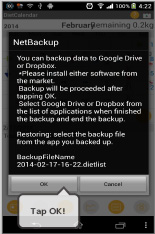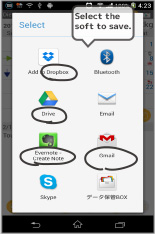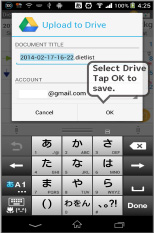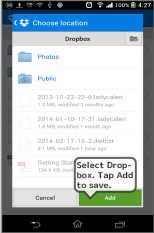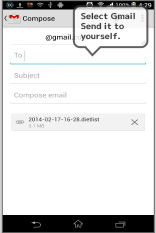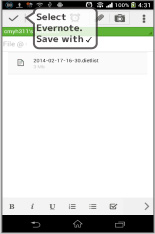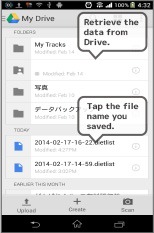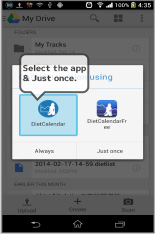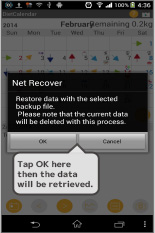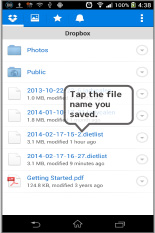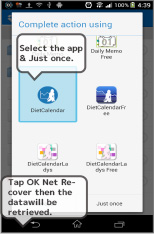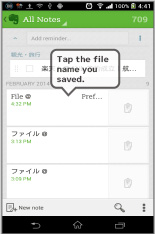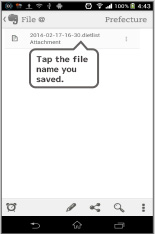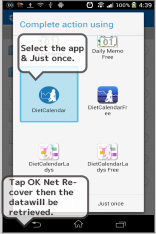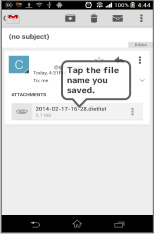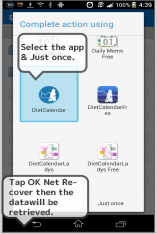 Visit our website with your mobile and tap the right link to download DietCalendar. DietCalendar DietCalendar Free

Visit our website and tap the QR cord or scan QR cord with your mobile.


DietCalendar

DietCalendar Free