Home | Applications | Flashcards
Flashcards
Are you studying for a qualifying exam or students preparing for an exam? GalleryApp Flashcards is developed for you, people who want to study during travel to work or school. You learn, for example, vocabulary by watching, listening and writing. This is a great study tool that can enable you to learn not only languages but also anything you would like to study. You can register 4 words in one card. I am a everyday user of this application! So for you too!
Flashcards Howto Guide
Modifications

There is no modifications at this moment.
Menu Buttons
❶ 「Select」:Choose flashcards to study.
❷ 「Edit List」:Edit words from the whole list.
❸ 「Edit」:Edit a new word.
❹ 「Setting」:Set the basic setting of the app. ❺ 「Import/Export」:Import/Export flashcards.
❻ 「Help」:Help menu.
Initial screen.
Registered vocabulary appears here.
Tap ☆ star then it changes color. You can set down level of difficulty or level of memory so that you can review later by choosing the number of stars.
You can sort registered words by Alphabet or Random.
Check the checkboxes of the number of stars that you would like to study. You can review and study only chosen words.
Choose the first word to be displayed from 4 registered words.
Listen to the sound.
Go over the screen to memorise.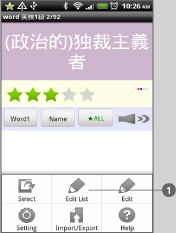 Let's make a sample flashcard here!
Press "Menu" then choose "Edit List".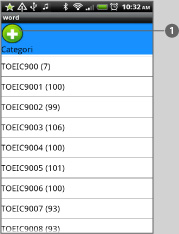 Edit screen appears.
Tap Add Button to make a flashcard.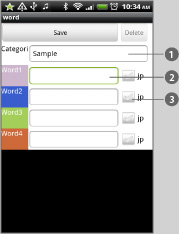 Input the title of your flashcard. EX. TOFEL001 or TOEIC002 etc...
Register words from Word1 to Word4. EX. Word1:English, Word2:Japanese, Word3:Pronunciation, Word4:Example sentence etc...
Check here, so you can listen to the Japanese sound. This function is for whom studying Japanese.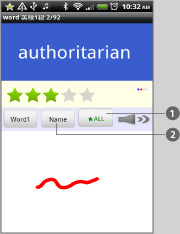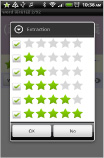 Choose the number of stars and check the checkbox you want to review and study.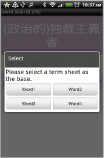 Choose the first word to be displayed from 4 registered words.

Visit our website with your mobile and tap the right link to download Flashcards. Flashcards Flashcards Free

Visit our website and tap the QR cord or scan QR cord with your mobile.


Flashcards

Flashcards Free